GKA STORE i
Double posted MAKIWARA
Handmade and no nails used
---
US$ 175+S/H ordering details are below
It's my opinion that the most overlooked aspect of true karate training is the use of the makiwara. Continuos daily repetitious striking builds power, strenght, concentration and most important develops muchin (no mind).
Complete concentration on the striking areas creates an atmosphere of nothingness, no mind. The mind is literally captured by the concentration needed to perform the striking and kicking properly. The moment you make impact, the mind, body and spirit are joined allowing for the spirit to gather in what is going on around you when you relax between actions. Practicing every day can develop punches and kicks that can register up to at least 2000 lbs. per square inch.
~HGS
---
TESTIMONIALS:
Smith Sensei,
As you know, I received your makiwara.
The workmanship and quality of this training tool is great !
I use several types of makiwara and this one will fit in fine for my training.
Thank you again for a Great Training Tool !

Keep the faith old friend,
Yours in budo,
Phil Koeppel
I recently received a double-posted makiwara from Smith Sensei. I assembled it (easy to do) and got right on it. I absolutely love it. The construction is solid and very well done. It is worth every penny. It is built to last.

To own this piece of equipment handbuilt from Smith Sensei is enough in itself, as it is one of a kind, so to speak. However, the way it works and responds is incredible.

Respectfully,
Marc
---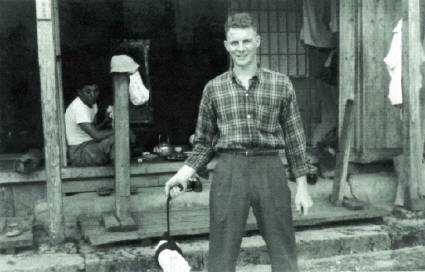 SGT. BRYNOR
This photo taken at the Agena, Okinawa dojo in 1957 shows the makiwara used by first generation students of Shimabukuro Tatsuo Sensei. This original makiwara was hand made with axe and chisel. This exact type of makiwara is offered to you constructed of pressure treated lumber, no nails used, and ideal for indoor or outdoor use. Each pedestals striking area is covered with material or allowed to remain smooth surfaced and are spring supported to allow for maximum force and fast retraction. One end accepts the strongest punch and the other end forces the foot to target itself properly, making sure the toes are curled upward, striking with the ball of the foot.
---
Double posted Makiwara, same as used at Kyan & Agena, Okinawa 1956-58
The photos on this site do not explain exactly what the makiwara does. It has two posts, one 6 ft high and one 2 ft high. They are not solid, they swivel back and forth, and are split down the center to take up precusion.
Both swivel on steel studs which can be adjusted. The adjusting part is that when you hit it, it travels forward and then "hits" you back, same as the kicking post To put it simply, the harder you hit it, the harder you get hit back.
The hardest exercise to learn is hitting the highest post and then at same time elbowing shorter post. Creating a rhythm which teaches fantastic retraction neccesary for the Isshinryu snapping punch.
The unit measures 7'x27"x 8" and weighs 76 pounds.
IMPORTANT ORDERING INFO: You can buy this item by clicking the "Buy Now"-button below. Shipping and handling charges will be charged later!
Ordering information:
Guardian Karate Association
PO Box 149
Hershey, PA 17033-0149
Email: GuardianKarate@aol.com
Contact us for shipping and handling charges